Ferries from

Poole

or

Portsmouth

on the south coast of England, or

Rosslare

in Ireland provide good connections to Normandy, and it's both quick and simple to book directly on-line with the ferry companies (Brittany Ferries or Celtic Link and Irish Ferries). Day trips and special offers are available throughout the year and there is a wide choice of facilities and accommodation on board to make your journey comfortable and enjoyable. From March to October there are several fast craft services available, making a day trip from the

south of England

a realistic option; with 24 hour return fares as low as £45 for a car and 2 people the savings in France are quickly recouped. Travelling from the

Irish Republic

needs more time, but return crossings for a car and 2 people on the luxurious Oscar Wilde can be as low as €200 including a cabin both ways.


Ferry Operators
From the South of England
Brittany Ferries operate a modern fleet of both classic cruise ferries and fastcraft from either
Portsmouth or Poole to Cherbourg or Ouistreham. If you cross the channel regularly as I do you can't fail to be impressed by the quality of service on offer backed, up by attentive and willing on-board staff. The Normandie Express can occasionally be a bit lumpy, but the level of concern shown if you are feeling unwell or have a young family to cope with is quite honestly exceptional. The company is also making a big push on pricing for 2008, so expect to find even better value for money.


From Ireland

Norman Horizon is the latest and fastest ship between Cherbourg and Ireland proposed by Celtic Link Ferries.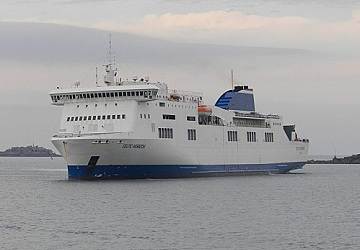 it is also the only ship offering through the whole year between France and Ireland. This ship offers two bars, a cinema, a playground for children and the ship itself is one and half times the size of its predecessor. The big plus of Celtic Link Ferries are the main attractive prices all along the year.
and we are in partnership with this company to offer special discounts at certain times of the year
Irish Ferries operate a service from Rosslare direct to Cherbourg. The route is served by the magnificent MV Oscar Wilde which is every bit as good as the company's own publicity suggests and boasts levels of comfort and space that you might find on certain cruise liners. Cabins are a huge improvement on the previous vessel the MV Normandy.